.
- - - - -
- - - - -
/2019/06/sources-say-downed-uav-penetrated-deep-into-iranian-airspace/
- - - - -
https://tass.com/defense/1065905
76 Su-57 by 2028. Not few, not many.
Many Typhoons and F-22 (produced since 2003 and 2002) will be really old by 2028 already.
- - - - -
defence-blog.com/army/ukrainian-soldiers-obliterates-unique-russian-artillery-reconnaissance-complex.html
The vehicle has tracks, but the crew chooses to operate from the road, which makes determining its coordinates much easier. This is the kind of tactical stupid that's borne out of complacency. Same deal as with Frenchmen letting recce drones fly the very same route day after day during the Kosovo Air War.
- - - - -
bostonglobe.com/opinion/2019/06/30/soros-and-koch-brothers-team-end-forever-war-policy/
- - - - -
china-defense.blogspot.com/2019/06/pr-photos-of-day-smurfs-training.html
Hardly anything in these photos makes sense (to me).
The physical fitness stuff is stupid, the uniforms are stupid, the simulation of underbarrel grenade launcher weight with (not fixed) canteens is stupid, the urban combat tactics seem stupid, the way of moving with backpack over a rope is totally stupid.
I'm a bit conflicted. On the one hand there's history showing that Russians have a consistently (over centuries) poor efficiency in warfare, and Chinese the same. There's plenty indications that their tech sucks more often than not, and plenty people told me that Chinese psyche is unsuitable for innovation et cetera.
On the other hand I also reject the notion that Russians or Chinese could be stupid or systemically unimaginative as individuals. There's nothing in IQ statistics pointing at them being stupid.
Maybe there's something wrong in their culture that explains this. Something that systematically nudges the people toward poor performance.
I'm sure that no Western armed service would so consistently and stubbornly publish such stupid photos. The use of stupid blue digicamo camouflage on marines alone is too much of an embarrassment. The USN has such stupid uniforms as well, but not for land combat (though theirs are stupid and dangerous, too).
- - - - -
https://twitter.com/paulkrugman/status/1141659389553795072
- - - - -
Maybe it's the bulletproofing (and even mine-proofing) of our times' army vehicles that drives developers towards such overly complicated, heavy, thirsty and expensive vehicles. An armoured vehicle can be sold at five to tenfold price of a comparable unarmoured vehicle, even if the difference is little more than RHA plates (the difference is not quite as extreme with up-armoured vehicles).
Just a reminder; we could still move four humans with equipment around in
a 1950's design Jeep
, offroad and on-road. I assure you, they could move from A to B in a timely manner.
There's no doubt a golden middle, but I tell you, JLTV and other recent monstrosities ain't at it.
related
- - - - -
romeanditaly.com/the-discovery-of-2000-year-old-gladiators-helmet-in-pompeiis-ruins/
- - - - -
I've put
my warship series AAW chapter from February 2018
(equivalent of 20 book pages) into
http://www.analyzemywriting.com/
and the result was devastating. The readability grading ranged from grade 12.57 (Coleman-Liau) to grade 15.81 (Gunning fog). So I looked for a second opinion and asked
https://app.readable.com/
for another Flesch-Kincaid score with a text version that had headlines, lists and captions removed (analyzemywriting gave grade 12.66 for Flesch-Kincaid). The result was grade 12.0 (and Gunning-Fog grade 14). At least I had a "cliché count" of 0%.
"For comparison, according to

this source

, academic papers are written at about the 12th grade level. Malcolm Gladwell writes at the 9th grade level, F. Scott Fitzgerald at the 8th grade level, Stephen King at the 6th grade level, and Ernest Hemingway at the 4th grade level. It also says that only about 1 in 8 U.S. adults can read at the 12th grade level."
quoted from here
I have as far as I know also issues with too much use of passive voice and presumably some other habits regarding choice of words and grammar that are suboptimal.

This compound of writing issues might explain why I keep having the impression that many people who comment seem to be oblivious to my already given arguments. They may simply not have read them.
I don't even know how to write simpler British English and I don't think switching back to
Simplified English
would help, so don't expect any improvements on this front regardless of this new-found awareness. Sometimes there's just a problem, and no solution to be expected.
- - - - -
OpenSeaMap with maritime traffic
- - - - -
https://9gag.com/gag/axzrznb
https://www.rferl.org/a/biggest-loser-in-kazakh-presidential-election-could-be-government-reputation/29991513.html
(I did not find some NGO or OECD election observation report.)
It appears to be a rather widespread problem:
https://www.thetimes.co.uk/article/votes-in-invisible-ink-just-vanish-in-ballot-7vkg8p2bcp3
https://www.spectator.co.uk/2018/03/how-to-rig-an-election/
https://blog.penvibe.com/elections-and-disappearing-ink-pens/
- - - - -
www.vice.com/en_us/article/8qbq5x/the-cia-spied-on-people-through-their-smart-tvs-leaked-documents-reveal
"1984" was meant as a warning, not as a guide!
- - - - -
The Balkans.
- - - - -
I suppose we should get a study to see if the results can be reproduced, and if yes we should simply ban such surveillance software, period.
Meanwhile, our German ministers of the interior seem to have a consensus that the government should be able to spy a lot more on its citizens. They want encryption vulnerable and internet companies to yield as much surveillance info as possible when asked.
This is what I wrote about when I complained about the principal-agent problem. Our politicians should lead executive branch divisions to force them on a path of pursuit of national interest. Instead, they adopt the bureaucracies' self-interest for more authority, more budget, more, more and more.
"We reason that increased resources and independence from others cause people to prioritise self-interest over others' welfare and perceive greed as positive and beneficial, which in turn gives rise to increased unethical behaviour," the researchers concluded.
That would explain a lot - and point at a solution: Let them feel their actual dependence on others.You did not build that without the effort of many others, without the infrastructure provided by government, without the rule of law and enforcement of law by the government et cetera.

- - - - -

Next Saturday: A "How to fix ..." series blog post.
And no, it's NOT about Sweden, Spain or Finland.

- - - - -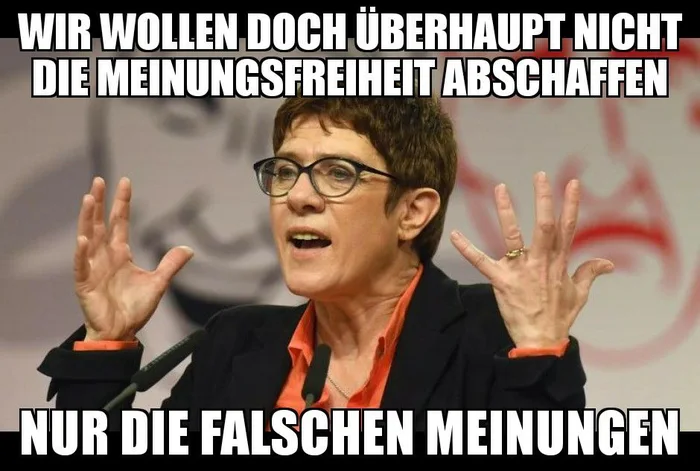 So in etwa.
S O
defence_and_freedom@gmx.de
*: It might make sense for large 9+ ton trucks if they are expected to use narrow river or mountain roads a lot, but AFAIK there's no such vehicle. Timber truck drivers negotiate such roads without such bells and whistles mostly by skill.
.