- - - - -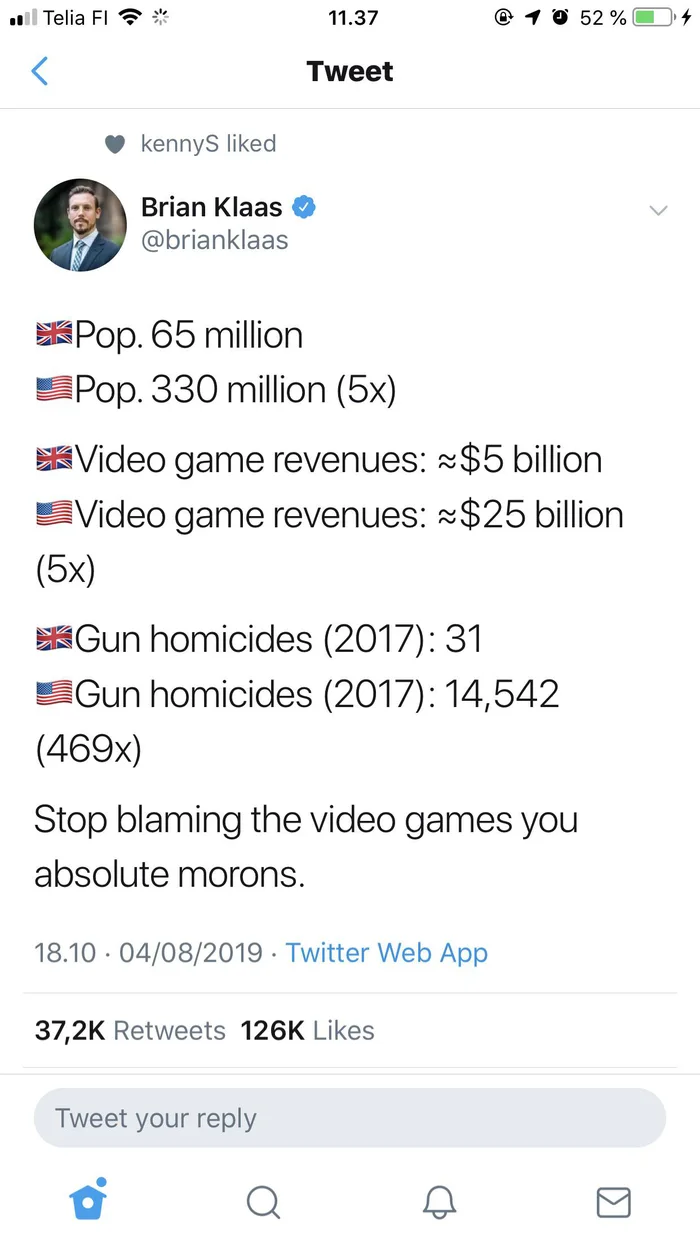 - - - - -
nextbigfuture.com/2019/08/us-military-will-use-big-brother-monitoring-technology-to-track-all-movement-in-the-usa.html
- - - - -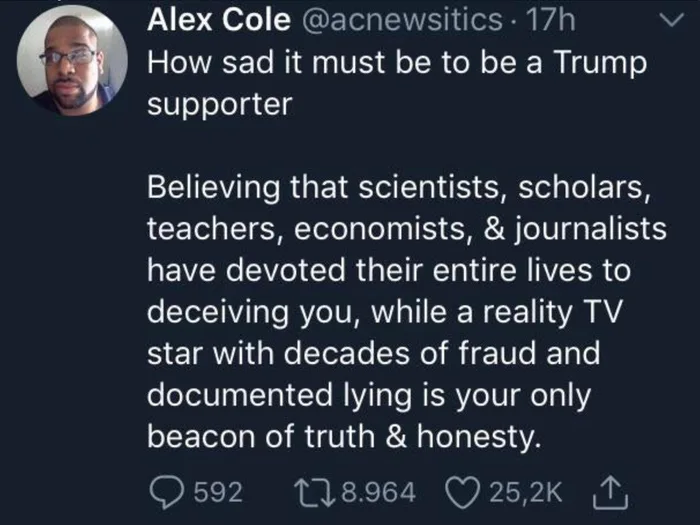 Sadly, this is true of other countries as well. It's just not THAT obvious there.
- - - - -
washingtonpost.com/politics/2019/08/12/president-trump-has-made-false-or-misleading-claims-over-days/
12,019 "false and misleading claims" (lies) in 928 days
Those were only the public lies.
- - - - -
[German, 2019]
heise.de/newsticker/meldung/Klingeltoene-und-WhatsApp-EU-Staaten-fuer-maximale-Vorratsdatenspeicherung-4498291.html
[German, 2016]
heise.de/newsticker/meldung/Europaeischer-Gerichtshof-bekraeftigt-Anlasslose-Vorratsdatenspeicherung-ist-illegal-3578920.html
Angesichts des offensichtlichen Willens zum Rechtsbruch braucht es vielleicht drastische Rechte, um solche nicht verfassungstreuen Bürokraten aufzuhalten. Wie wäre es mit einem Organklagerecht hierzu, damit die höchsten Gerichte auch staatliche Institutionen als kriminelle (bzw. illegale Zwecke verfolgende) Organisationen identifizieren und auflösen können?
- - - - -
B
ürgerrechten ist ein tendenzielles Problem bei der CDU. Das belegen auch die vielen von Verfassungsgerichten aufgehobenen, von der CDU lancierten Gesetze. Bei der illegalen Vorratsdatenspeicherung versuchen sie es sogar immer wieder, obwohl schon höchstrichterlich entschieden wurde, dass sie illegal ist.
Zwischenzeitlich dhat das die CDUler schon so geärgert, dass sie die lästige Durchsetzug von freiheiten durch das Bundesverfassungsgericht beschränken wollten. Den Angriff auf hinderliche Richter hat nicht der lügende Schwachkopf aus Amerika erfunden.
Eine andere Tendenz ist, dass sich Innenminister als "Law and Order" Kraftmeier aufspielen. Doch statt "Law" haben die dann vorwiegend "Staatsgewalt" im Sinne und ordnen der möglichst allmächtigen Staatsgewalt dann allzugerne Recht und Gesetz unter.
Zur "Law and Order" Masche gehört leider auch, dass solche Typen viel auf Show und Effekthascherei wertlegen. Uniformierte Streifen mit Schutzweste und MPi usw..
Die wirklich wirksamen Maßnahmen sind in der Regel kaum für die Öffentlichkeit wahrnehmbar und daher für solche Selbstinszenierungen nutzlos. Dazu gehört zum Beispiel, dass auch bei kleinen Verbrechen anständig kriminaltechnisch ermittelt wird und es nicht bei Einbrüchen mit geringen Schäden bei einer oberflächlichen Beschau durch Streifenpolizisten bleibt.
Die Aufklärungsquoten sind bei Morden geradezu unfassbar hoch, weil da viel Aufwand betrieben wird. Es braucht für die Strafverfolgung undd en Schutz der Öffentlichkeit vor Verbrechern nicht mehr Rechte oder selbstdarstellerischer Innenpolitiker, sondern einen besseren und konsequenteren Einsatz der vorhandenen Möglichkeiten.
- - - - -
Meines Wissens nach macht diese Ungenauigkeit wohl so gut wie nichts aus wegen dem zweigliedrigen Wahlsystem mit Direkt- und Listenstimme (wie auch beim Bundestag). Letztere gleicht Gerrymandering aus. Die einzige relevante Ausnahme wäre wohl, wenn die Wahlkreisgrenzziehung einer Partei ein zweites Direktmandat verwehrt, die an der 5% Hürde scheitert. Von der Regel halte ich allerdings ohnehin wenig. Wir sollten die Hürde einfach bei allen Wahlen in Deutschland runtersetzen auf 2% und die Direktmandatregeln abschaffen.
Im Übrigen spricht schon lange nichts mehr dagegen, die Abgeordneten mit einem (ungleichen) Stimmgewicht zu versehen, dass 1:1 ihrer erhaltenen Stimmenzahl entspricht. Das bisschen Kompliziertheit ertragen wir locker.
S O
.