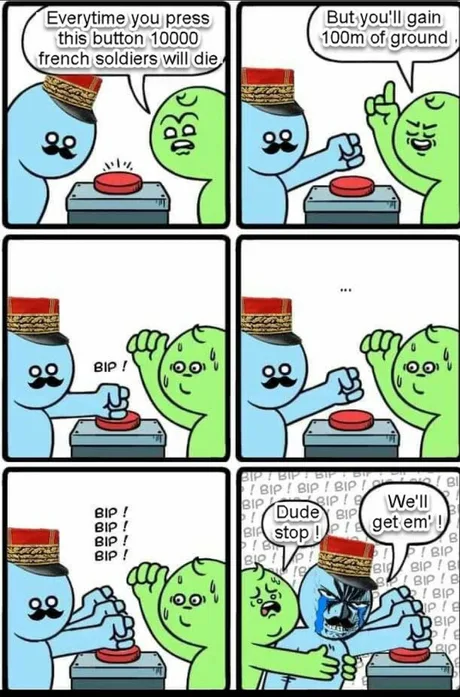 - - - - -

The case is settled; Armenia has to withdraw, period.
AFTERWARDS, the right to self-determination of the local Armenian majorities in Azerbaijan should be the hot topic, leading to a referendum and a peaceful redrawing of borders and a bilateral treaty reaffirming minority protections and agreeing on easy border crossings.
- - - - -
- - - - -

- - - - -
An African-perspective satire
- - - - -

A reminder that humans are humans, and act according to circumstances. Colonialism's evils were not all that much about race, after all.
- - - - -
- - - - -
It's no link and not worth a weekly blog post, but I still want to bring one point across:
The public discussion of military affairs appears to be a spiral. Old and long-answered questions arise over and over again, old and long-rejected or long-disproved ideas arise over and over again.
This happens (IMO) much, much less regularly in science fields. The military theory and military hardware writing and publications are obviously insufficient to create a community memory that keeps the community from revisiting old bad ideas (and asking old, long-answered questions) over and over again.
Science solves this with the institution of the senior professor. Senior professors are rarely of any use to propel science forward any more. They are rather a roadblock to that effort. But they do often hold impressive knowledge about old discussions, old questions, old answers, old literature. Junior researchers can easily go to them if they have an idea and get a quick check if something of that kind was tried before.
I understand that the (in most countries very limited) military school systems could in theory have such knowledge, but they have no or almost no such decades-long serving teachers. Moreover, such institutions do nothing for public debates and are badly restricted regarding multinational discourse.
This looks like a system built to ensure everlasting amateurism.

- - - - -

Archaeologists have found enough fragments of a legionary armour at a dig site related to the so-called 'Battle of the Teutoburg Forest' (destruction of Varus' three legions). It appears to be a predecessor (and less comprehensive version) of the so-called '
lorica segmentata
' (which was more comprehensive).
source: Roland Warzecha, Rebekka Kuiter
(Much more fragments were found than the one in the picture, we can have confidence in the reconstruction.)

- - - - -

- - - - -

The Australian SAS appears to have a MUCH bigger discipline problem than the KSK.
- - - - -

That's right, put the crazies back into their caves of stupidity. They shall not dare to come back into sunlight.
Also, Americans take note: This is how much (IMO most) of the world thinks about you.
- - - - -
related:

- - - - -

Part of why I don't care all that much about Russian natural gas is that it's going to be of much lesser relevance in 20 years anyway. The last two winters were so mild that I got money back (that I had paid as regular heating bill) due to almost no need for heating (natural gas is the energy carrier of choice for heating urban homes in Germany).

- - - - -
This is utterly common, and easily predictable. Authorities L O V E to discredit resistance and protest, against them or their actions. The claim that resistance and protests are violent is a most simple way of discrediting such opposition. Moreover, a horde of useful idiots will always jump on this and keep supporting the authorities regardless of their ethical merits - and regardless of how actually violent the authorities' response was.
Any adult who is thinking for himself/herself about politics should be aware of this. To fall for such predictable and unimaginative propaganda is embarrassing.

- - - - -