.

Everybody nowadays agrees that the red, blue, white uniforms of the absolutism era and even 19th century would be a horrible idea on a modern battlefield. They made troops especially visible and identifiable, which made the commanding of formations on a battlefield easier. Firearms improved in firepower, and it became imperative to seek concealment, cover, camouflage and be dispersed.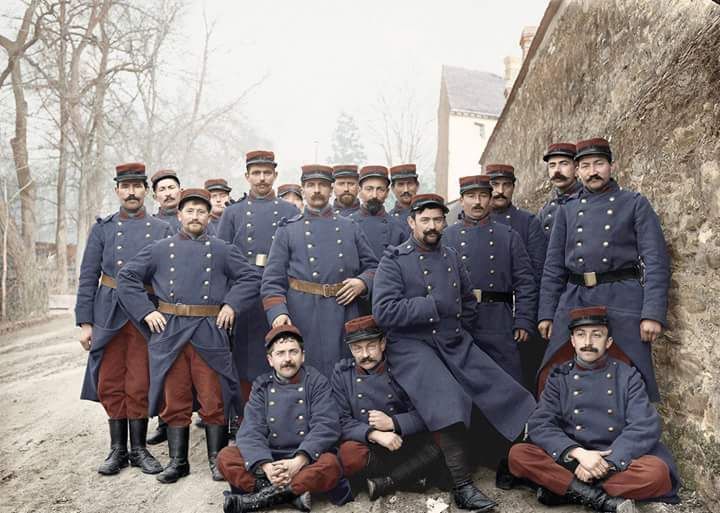 The French persisted in using colourful uniforms into WWI
(correctly colourised photo)

The reason why such easily visible uniforms are obsolete is that they're too easy to detect and identify. You cannot afford that on a modern battlefield because firepower has become terribly lethal (and the partial bulletproofing of infantry doesn't change this).

That's EXACTLY the reason why I think that ALL uniforms - including modern ones - are obsolete.
What? You think it's not that easy to see a camouflage pattern-clothed soldier outdoors at 100 m?
Me neither, but you should stop thinking with your eyes. This is the age of electronics. It's a decades-old story that law enforcement uses aerial sensors to find marijuana plants based on their colour spectrum.* This is literally something that can be done with a man-portable drone over several kilometres range.
Likewise, all those exactly military specification-following camouflage clothes and vehicle camouflage paint jobs (and even the industrially-made ghillies and camouflage nets) can (as far as I know) be detected quite easily by their spectral fingerprint. They stand out to a appropriately-prepared sensor and computer as bright red would do.
A typical man is unable to correctly name more than two or three shades of green. Some Amazonian tribe reputedly knows 50 names for different shades of green. A computer can correctly identify ten thousands of shades of green in less than 1/1000th of a second.

Weathering of colours (such as many times washed clothes, or old vehicle paint jobs) is very likely something that the algorithm can simply take into account. The false alarm rate may be an issue, but today's machine learning methods and an ability to zoom in on a first detection for confirmation should render false alarm rates acceptable.
Camouflage patterns are furthermore patterns. Repeat, patterns. Pattern recognition is one of the strengths developed for computers in the past two decades. Camouflages patterns are difficult to discern from certain backgrounds for a human brain at certain distances - but a dedicated computer algorithm can identify such patterns easily regardless of context.

In the end, technology may spell doom for uniforms and standardised vehicle paint jobs for battlefield usage, leaving us with uniforms for non-battlefield troops, which would be a relic - largely devoid of function.
The things that may be redeemable about battlefield uniforms are their shapes (cut) and materials.
Predictability hurts in warfare - and what's more predictable than an army wearing the same clothes and painting all its vehicles alike, for decades?
edit: a somewhat related research paper

https://www.scientific.net/AMM.135-136.341
Figure 4 shows the problem; the amouflage fabric looks like foliage to us humans, but a spectrum analysis shows something completely different. Figure 6 reminds me of how algorithms can easily discern a small boat from a background of seawater and white spray - the effective contrast is much greater to the algorithm than to the human brain.

S O

example: channelsystems.ca/sites/default/files/documents/UseofSpectralPropertiesforWeedDetectionandIdentification_Noble.pdf If still in doubt, look up 'marijuana spectrum detection', but absolutely avoid searching for 'marijuana spectrum'...
P.S.: Years ago I wrote that camo pattern uniforms are fine for non-combat, non-reconnaissance troops, but combat and reconnaissance troops should strive for better camouflage effect than possible with standard pattern uniforms. Ghillie-like camo jackets modified for the local and seasonal environment, for example. Camo pattern clothing risks suggesting that it's good-enough camo by itself, but both combat and recce troops should strive for better stealth than that. One way to ensure this could be to give them monochrome grey, green or brown camo clothes (at least for the torso). Now I think that maybe the visible parts of such a colour base layer could be very troublesome.

.